HEALTH CARE FOR THE HOLIDAYS
Giving parents the tools to talk to their young adult children about health care.

Organizing for Action (OFA) was a political non-profit established after Barack Obama's re-election in 2012 to continue the grassroots movement of his campaign and advocate for his policy agenda.
Challenge

During the first Obamacare enrollment period, the success of the program depended on getting as many people signed up as possible, particularly young, healthy individuals. However, young adult males were the least likely to get insured. OFA's goal was to reach this audience and convince them to get health care coverage.
Execution

While young adult males were the least likely to get insured, evidence also suggested that a little encouragement from parents would help boost young adult sign-ups, particularly among men. To reach this audience and make talking about health care more fun and palatable, OFA created a light and campy campaign encouraging parents to have "the talk" with their young adult children over the holidays.
The campaign included a "Health Care for the Holidays" website with a video and printable resources for talking about and signing up for health care. The campaign also extended to email, social media, and ads.
Website Design


We designed the website architecture to be easy to understand and straightforward to use. Each of the four steps look like the sheets of paper that parents can print out and refer to later. Visually, the website is playful and subtly humorous. We mixed animated symbols of the holidays and health care together—snowflakes and band-aids, turkey legs and first-aid kits.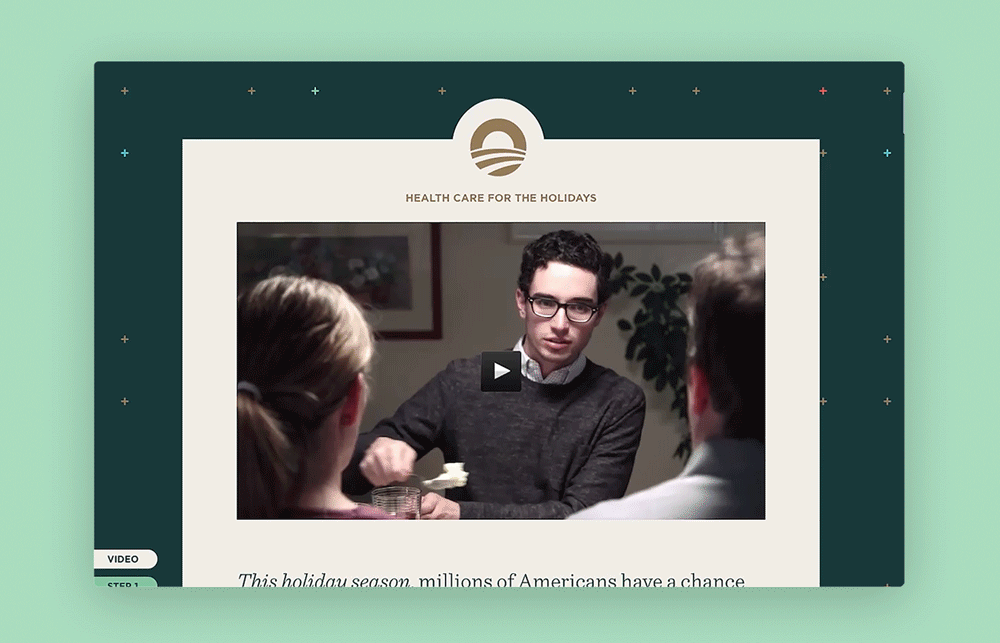 The Work Continues
By the end up the first enrollment period, in May of 2014, more than 8 million Americans had signed up for health care through the Obamacare marketplaces. The holiday campaign ended, but our work for the cause did not. Our next health care campaign focused on gathering and sharing stories from those who had signed up for health insurance, some for the first time in their lives. The more stories of success and lives changed for the better we could amplify, the harder it would be for congress to repeal the law.